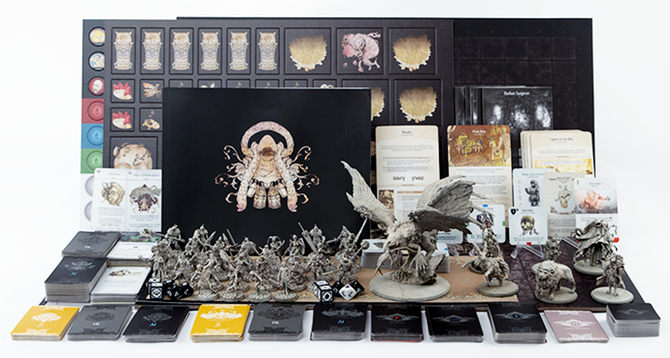 Making history
This title might sound pretentious coming from the first issue of something, but bear with me :) I'm actually referring to a board game project that's on Kickstarter now - Kingdom Death: Monster 1.5.
Kingdom Death: Monster was a 2012 Kickstarter project from Adam Poots that collected $2 million in funding which was an enormous amount at that time. It is a cooperative board game set in a nightmare-horror world. In recent years we have been witnessing a renaissance in board gaming and an explosion of board game projects on Kickstarter. Few of them surpassed that amount, like Zombicide games, Dark Souls The Board Game, Massive Darkness and previous record holder Exploding Kittens, which collected almost $8.8 million.
Now an upgraded version, Kingdom Death: Monster 1.5 is on its way to set the new record. Already a most funded board game project and in top 5 of most funded projects on Kickstarter ever! We'll see at which spot will it land on January 7th.
Again, "making history" seems a bit farfetched, since Kickstarter is just 7+ years old. We could see the funding level of KD:M surpassed in few years. But, it's by no mean a small achievement.
Kickstarter and crowdfunding culture, in general, have done wonders for the return of analog gaming. We truly are living in a dream world for board game fans considering an amount of new and upcoming games, and we can thank crowdfunding for a great deal of it.